You are now at the design stage. Follow the steps below to create your plate.
Step 1 - Select your Vehicle Type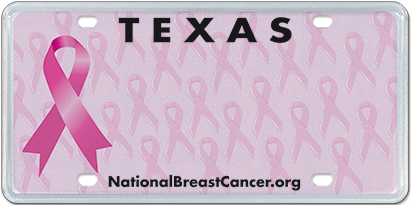 * A portion of the proceeds is received by the National Breast Cancer Foundation, a charity providing education, services and support to Texans impacted by breast cancer.
Background Only Passenger Plate:
Breast Cancer
Step 3 - Order This Plate
We are sorry, but check availability and plate ordering are currently unavailable due to regularly scheduled maintenance between 4:00 am and 7:00 am daily. Please try again a little later.
* Plates shown are for illustrative purposes only. The actual colors, shades, shapes, sizes and spacing of graphics and letters may vary from what you see displayed on your computer monitor and printed receipt.