You are now at the design stage. Follow the steps below to create your plate.
Step 1 - Select your Vehicle Type
Step 2 - Pick your Design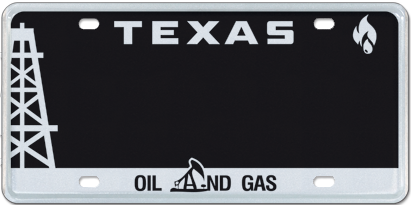 7-Letter Personalized Passenger Plate:
Texas Oil and Gas
Step 3 - Create your Message
Instructions:
Type 7 letters/numbers to create your message. For example A#AA##A or AAAAAAA. Then click check availability to see if it is available.
TxDMV Plate Guidelines and Restrictions
* Plates shown are for illustrative purposes only. The actual colors, shades, shapes, sizes and spacing of graphics and letters may vary from what you see displayed on your computer monitor and printed receipt.