Special Rebate Offer
Welcome to the My Plates special rebate offer page. My Plates is excited to make available to you the following special rebates on any new My Plates customized specialty license plate.
Special Rebate Offer!
Just click the "Order Your Plate" button below and a special rebate code will be automatically applied to your qualifying plate order at MyPlates.com. The longer term plate you purchase, the more you save!
Choose from over 100 designs and countless personalization options including 7-letter plates.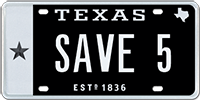 SAVE $5
Purchase any 1-yr term plate and receive a
$5 rebate.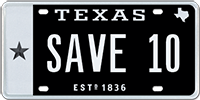 SAVE $10
Purchase any 3-yr term plate and receive a
$10 rebate.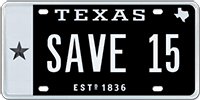 SAVE $15
Purchase any 5-yr term plate and receive a
$15 rebate.
Please Note: Rebate code only valid when ordering a license plate from MyPlates.com. Rebate code cannot be used in conjunction with any other offer or layaway plan, and must be entered at checkout. Limit 1 rebate code per plate order. Rebate code is not transferable for cash. Checks for rebate offers will be mailed in 4 to 6 weeks after plate purchase date.